As a future bride like you, we want everyone to look great in our wedding. That's one of the challenging things we might be facing when coordinating with the couturier that will dress our entourage. When deciding on a particular style or shade, we always consider the opinion of our bridesmaids. Are they going to be comfortable in it? Is it too revealing? Does it compliment their figure? And many more.
You want to be stunning that anyone else in your wedding. However, you also want to make sure that your bridesmaids share the same feeling. Here are some guidelines you can follow when deciding on that bridesmaid gowns.
The type of fabric You have finalized the design of your wedding gown, now it's time to deal with the entourage. What is the concept you have in mind? If you prefer a light, carefree, and casual looking, gowns made from satin and cotton will match that idea. If you're on a more formal mood, you might want to consider organza, taffeta, and tons of laces.
BridesmaidsSparkler Writing
Through many weddings and events we have seen that incorporating wedding sparklers with our wedding party is spectacular. The
36inch wedding sparklers
give you enough time for the grand wedding exit and photo shoots with your girls. Bridesmaids love the idea of writing with the sparklers. Creating messages to send to your guests as thank you photos make the happiest day of your life even more memorable. The other options when having a sparkler writing photo shoot are
20inch
and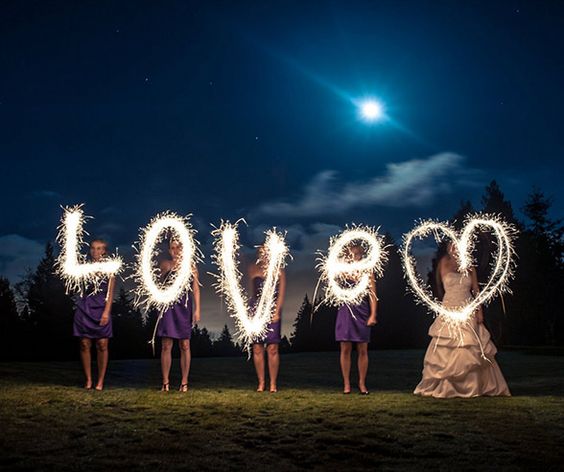 The design and cuts Bridesmaids wearing different styles and cuts is the trend nowadays. The benefit of this one is that your bridesmaids can choose the type of design which can accentuate their assets and hide their flaws. In addition, it will lessen your responsibility in terms of deciding on what they should wear. What you just need to do is to send them a series of gowns with different styles and seek your approval once they have decided.
The right kind of accessories You don't want one of your bridesmaid to go overboard with their accessories. The attention must be focused on you and should not be stolen by a secondary sponsor with an outrageous Sarah Jessica Parker inspired hat. If it's a vintage wedding, tell them that pearl is the only allowed piece of jewelry. Wear the required design and color of shoes. Don't wear sneakers! This is not Twilight premier and you're not Kirsten Stewart.
The selection of palette and shades Bridesmaids wearing different colors of gowns is getting popular on wedding trends. It makes the photos more vibrant and lively. You could also incorporate that in your wedding especially if you got lots of bridesmaids. If you really want to stick to a single color, that's fine. Say for example teal and navy are both shades of blue. Try to play around your colors. Even black has different palettes to choose from
The uniformity We are used to the overrated tradition of brides wearing the same color of outfit, makeup, hair, and shoes. Since you'll only get married once, you want it to be unforgettable. You want everyone to have fun not only you. But it's also okay to play safe with your choices and settle for the usual. Remember that the true essence of getting married is not how beautiful the venue is or how much you spend to your wedding ring, it's about the love, respect, and trust. It's about a mutual understanding that both of you will agree to disagree on divorcing each other no matter how difficult the endeavors will be.